Bullet Catcher Culemborg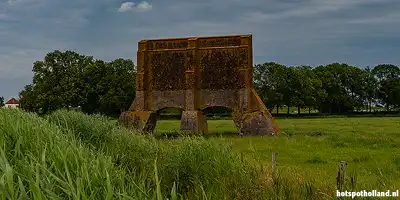 Bullet Catcher Culemborg
Culemborg


Hike along the fortresses Werk aan het Spoel and Fort Everdingen
Culemborg - The New Dutch Waterline is an ingenious series of forts, locks and other defense works. We walked from Werk aan het Spoel - with the Bullet Catcher - via meadows and the floodplains of the Lek to Fort Everdingen and back again.
Werk aan het Spoel
In 1794 the French invaded the Northern Netherlands. In order to flood the polders and thus hinder the invasion, a hole was dug in the Lek river dike near the Spoel. For defence of the hole, a position of earth was built. This so-called "Work" was then manned with soldiers and cannons who actually fought here against the French in 1795.
Bullet Catcher Culemborg
South of Werk aan het Spoel is a striking gate in the meadow. The structure is approximately 7 by 7 meters in size. It is a Bullet Catcher or also called Bullet Gate. This bullet catcher was built in 1939 for the shooting range at the Werk and is the only bullet catcher of the New Dutch Waterline known to us.
Fort Everdingen
Fort Everdingen, just like Fort Honswijk, on the other side of the Lek river, has a special set-up. It is a tower fortress surrounded by adjacent buildings in a semicircle, covered under a thick earthen wall.
Both fortresses served to guard the entrance to the Lek river. Fort Everdingen also served as protection for the nearby inundation sluices. This made it possible to quickly submerge the environment.
A striking feature is the dam next to the fort. This dam contains a sluice for the inlet of the river water.
Goilberdingerpad path
The Goilberdingerpad is a beautiful 'Klompenpad' of about 15 kilometers. This circular walk starts at Werk aan het Spoel and runs along the Schootsveldpad behind the Werk, through the meadows to Everdingen, where you then walk again via the floodplain to Fort Everdingen and further, back to the starting point at Werk aan het Spoel.