Lutterzand and Dinkel river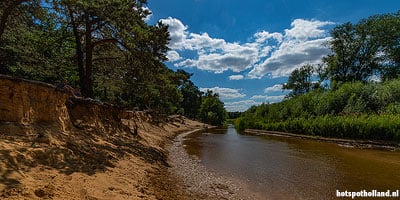 The sandy cliffs
De Lutte - The water of the Dinkel river has "eaten" its way trough the landscape of the Lutterzand, a sandy area near the German border. Along the winding river natural sand cliffs have been cut out by the erosion. These impressive cliffs are up to eight meters high.
Lutterzand and the ice age
The sand of the Lutterzand area originates from the last two ice ages.
Because the water of the Dinkel river in the outer corner flows faster than in the inner curve, by erosion steep sand cliffs are created. The erosion process is still continuing. Along the cliff you see different trees that have fallen over the edge.