Aan de Stegge building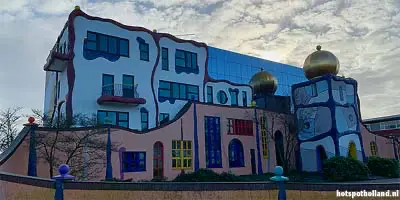 Aan de Stegge Building, Goor
Goor


Hundertwasser in Goor
Goor - Austrian architect Hundertwasser is known for his colorful and fanciful buildings. Thanks to the organic shapes and the pronounced use of color, Hundertwasser's designs are easy to recognize. On a business park on the outskirts of Goor is a business building that was built with great love in the style of the famous architect. Original? Yes, of course! You wonder why so many industrial estates consist of boring block-buildings. Isn't this much nicer?!
Friedensreich Hundertwasser
One of the highlights of the Austrian capital Vienna are the special residences of architect Friedensreich Hundertwasser. But you can also find his designs in other countries such as Germany. Even in the Netherlands there is a Hundertwasser house. De Regenboogspiraal is a Ronald McDonalds house and is located in Valkenburg aan de Geul. But a building 'in the style of' is an entirely different class. There aren't many of those! In that respect, the Aan de Stegge building in Goor is quite unique! What a privilege it must be to go back to work here on Monday morning!
At the Stegge Building interior
The 'Hundertwasser' building at Business Park Zenkeldamshoek was designed in collaboration with architect Barend Scherpbier. Not only is the exterior special, Hundertwasser's style is also extended to the interior. There you will also find all kinds of special mosaics, amazing shapes and striking colors.