Pier + Horizon jetty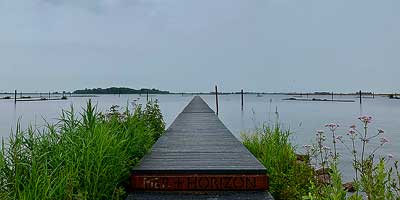 Pier + Horizon
Kraggenburg


Behold the end of the world
Kraggenburg - Pier + Horizon is a jetty at the end of the world. Pier + Horizon is located in the Noordoostpolder and extends into the Zwarte Meer. Around the jetty, twenty meter long reed mats float around poles.
Artwork in the Flevoland landscape
To get to Pier + Horizon you must first walk down a straight concrete path of one kilometer. This makes the place feel a bit like the end of the world, especially if you get there early in the morning or at sunset. Thanks to the weather, the experience is different every time.
This Landart project in the Noordoostpolder was conceived by Paul de Kort and was realized in 2016.