Schokland: Island on dry land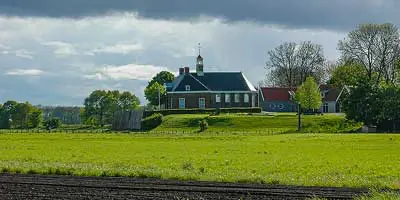 The former island of Schokland is now completely surrounded by land
Schokland


World Heritage in the Noordoostpolder
Schokland - 'Schokland, world heritage' is written on the big sign along the highway. Curious about the curious name Schokland, we decide to take the exit on the A6 near Nagele in the Noordoostpolder. After ten kilometers, a village suddenly rises above the flat polder. Schokland used to be a residential mound surrounded by the Zuiderzee (today's IJsselmeer), now the island is surrounded by grassland and undulating wheat fields.
Centimeters above sea level
When determining the height of modern dikes, the Dutch government calculates with 1 flood per 10,000 years. Schokland island used to be only a few inches above sea level. At high tide, a large part of the flat island flooded. To protect themselves, the residents built three residential mounds on the island. Nevertheless, Schokland has been regularly hit by floods and storm disasters over the centuries. The mounds were not high enough for all storms. A memorial stone has been erected on the Schokland in memory of the last major flood of 1916. The striking island has been a museum since 1948, but the island was still inhabited until the early twentieth century.
Pasture in the harbor
The old harbor can also be found near Schokland. The old buildings, the harbor mouth and the jetties can still be seen. But you can no longer enter. The port has become dry due to the reclamation. There is now only grassland and a single mud pool.