Giethoorn. Dutch Venice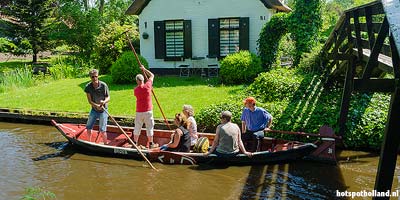 Sailing through the streets of Giethoorn
Giethoorn - The roads in Giethoorn are waterways. A comparison with Venice, Italy is therefore quickly made. Just like in real Venice, you do everything here by boat. The gondola in Giethoorn is called punter and the gondolier with paddle has been replaced by someone who pushes you with a long wooden stick or, if you go modern, a silent electric outboard.
Venice of the North
As mentioned, Giethoorn owes its nickname "Dutch Venice" to the many canals and bridges (more than 176!). But you should emphasise "Dutch" because in Giethoorn you will not find the
San Marco square
or
Canal Grande
. Another big difference is the prices for a drink or ice cream. These are a lot lower compared to the Italian example ...
Nickname
Giethoorn is not the only place nicknamed Venice of the North. Cities such as Saint Petersburg in Russia, Bruges and Amsterdam are also sometimes called tVenice of the North.
Giethoorn facts
Residents
- 2500
Tourists
- 800,000 per year, including many Chinese day trippers
When to go?
- As long as the weather is good, all year round
Monopoly game
- On the international Monopoly board, Giethoorn has a brown color and lies between 'Start' and 'Madrid'.
Dutch Venice Tour (Hollands Venetiëtocht) on ice
When King Winter rules and the ice layer on the canals and lakes is thick enough, Giethoorn is the scene of the famous Hollands Venetiëtocht. The start and finish of this skating classic is on the Bovenreed in Giethoorn. The tour is 55 kilometers long and leads to Blokzijl, Dwarsgracht, St-Jansklooster, Belt-Schutsloot, Wanneperveen and back to Giethoorn.