Walk on the heath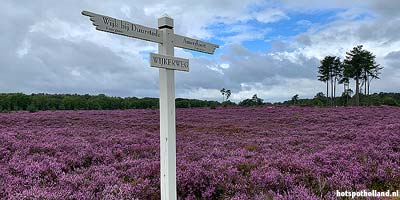 The heather at its best. Here at Landgoed Den Treek in the province of Utrecht
The weeks from the second half of August always have something special
Hiking the heather? A walk on the heath is beautiful at any time of the year. But the weeks starting the second half of August always have something special. The heather is then in bloom and turns a beautiful purple until mid-September. It is the ideal time to go out for a walk or bike ride and to take beautiful photos. Heather areas can be found in almost every province where there are sandy soils. Below you will find our favorites heath hiking areas.
Heathland North Holland
The Gooise heath areas are all connected so that you can walk or cycle endlessly. The vast heathland areas are mainly located around Hilversum. For example, take a nice walk on the Zuiderheide, Hoorneboegse heide, Bussumerheide or Westerheide. But there are also beautiful heathland areas elsewhere in the Gooi region, such as the Tafelbergheide near Blaricum. Here you can also 'climb' Table Mountain, the highest point of Het Gooi.
Heide Utrecht
You can also enjoy walking in the various heathland areas in the province of Utrecht. For example, at the Kaapse Bossen in the middle of the Utrechtse Heuvelrug National Park. Our favourite? The heathland of the Den Treek estate near Henschoten in the heart of the province of Utrecht.
Heide Friesland
You associate the province of Friesland with green grasslands rather than with heathlands. But around Appelscha, on the border with Drenthe, there is plenty of heathland.