Netherlands best rail journeys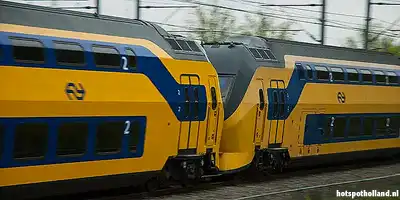 Travelling by train in the Netherlands
Six scenic train journeys
Traveling by train is a great way to explore the Netherlands. Trains carry passengers across the whole country and run at least once an hour, but normally two to even four times an hour. With some exceptions no reservations are required. Buy a ticket and a cup of coffee and enjoy one of the best scenic railway journeys in the Netherlands.
Leeuwarden - Sneek - Stavoren
Enjoy the historic Frisian cities
#1
The omnibus train from Leeuwarden to Stavoren is a lovely train ride trough the country side. The train connects six from the famous 'Eleven cities in the province of Friesland. The train departs every hour in Leeuwarden, the capital of the province. Destination is the small city of Stavoren. In summer you can occasionally take a boat to Enkhuizen at the other side of the IJsselmeer. The city of Sneek along the route is famous for sailing whilst the city of Hindeloopen is famous for its skate museum. At the end of cold winters you sometimes can see here spectacular 'icebergs', large blocks of ice that pile up onto the dyke.
Haarlem - Zandvoort
#2
The train ride between Haarlem and Zandvoort is unique in the Netherlands. The end-of-the-line is Zandvoort, the train station is located on the beach. Well almost. The Northsea is just 2 minutes walking!
Haarlem is just 15 minutes by train from Amsterdam.
Heerlen - Valkenburg - Maastricht
#3
The Netherlands are known as a flat country. The only hills can be found in the most southern part of the country and that's exactly where you can make a nice half hour journey by train. If you have more time to spend, just stop at one of the small train stations and make a nice walk. For example the area around
Schin op Geul
is really nice.
Almere Oostvaarders - Lelystad Centrum
Train safari
#4
Flevoland is the latest province of the Netherlands. The land was claimed from the IJsselmeer lake in the 1960's. Between the cities Almere and Lelystad there is a large natural reserve with a lot of wild animals. The best place to spot the animals is from the train!
Weesp - Naarden-Bussum
#5
It's just seven minutes by train from Weesp to Naarden-Bussum but the route takes you trough the 'Naarderlake' a unique lake that was the first natural reserve in the Netherlands. In Naarden make sure you visit the old city, it's a spectacular star shaped fort, complete with fortified walls.
Utrecht - Maastricht
#6
This railway connects 2 of the finest cities in the Netherlands. During the two hour journey you travel from the center of the Netherlands to the deep south. You will cross rivers and see the landscape changing from flat to hilly.