STAR Museum Railway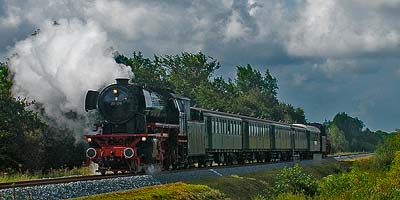 Take a nostalgic power train ride!
Stadskanaal


From Veendam to Stadskanaal and Musselkanaal
Stadskanaal - On the border between the provinces of Groningen and Drenthe, the "Semslinie", the STAR museum railway line crosses the former peat colonies. The 26 kilometer long railway runs from Stadskanaal to Musselkanaal and during the ride in this antique train you travel back to the time of the peat workers and the time when the train was something completely new.
Since 1994
The railway was still in service with the Dutch Railways until 1994. The Stadskanaal Rail Foundation has been operating a historic steam train on this line since 1994.
Race the train
During the open days in September, runners compete against a steam locomotive: Race the train! If you are a runner, give this unique challenge a try. It's cool!
STAR material
STAR's equipment consists of both historic steam and diesel locomotives and several dozen passenger and goods carriages..