Steam train Hoorn-Medemblik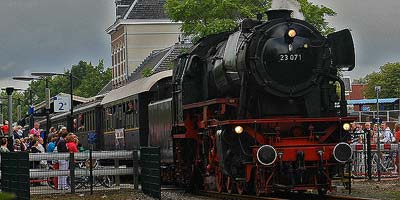 Boomling with Bello through West Friesland
Hoorn - In 1887 the first train ran between the cities Hoorn and Medemblik. For a long time people and all kinds of goods were transported by rail. After the Second World War, the railway became unprofitable and some stations disappeared. Now the line is in full use again by the SHM Museum tram line and the train is once again buzzing in the old-fashioned way through the beautiful green West Frisian landscape.
Locomotive Bello
One of the eye-catchers of the Hoorn-Medemblik local railway line is Locomotive 7742 of the Dutch National Railways, better known as "Bello". Bello was put into service in 1915 and got its name from the ringing when the locomotive drove through the villages.
Time travel
At the station of Hoorn you can view all the historical equipment up close and you can board for a nostalgic train trip with the steam train to the city of Medemblik. A great journey for children, parents and grandparents.