Depot Boijmans Van Beuningen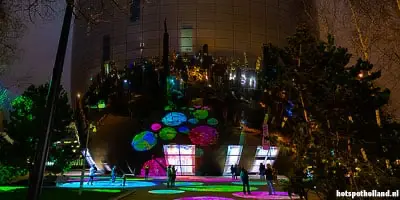 Depot Boijmans Van Beuningen
Rotterdam


Revealing its entire 8 billion art collection
Rotterdam - No exhibitions! In the spectacular Depot Boijmans Van Beuningen in Rotterdam you can wander around under the guidance of a guide and guard among all the art objects of the Boijmans Van Beuningen museum that are not on display. Outside, the skyline of Rotterdam is reflected in the windows of the building. Inside, more than 151,000 artifacts are waiting for the visitor. Estimated value of the entire collection? 8 billion euros. Don't you come for the art? Even then, the Boijmans Van Beuningen Depot is well worth a visit: the depot is spectacular.
Mirage
Thanks to the round shape and the large windows, Rotterdam is reflected in the building. The Depot thus brings the skyline of Rotterdam into the city. The reflecting sky is also beautiful. As a result, Depot Boijmans Van Beuningen looks a little different at any time of the day. Fascinating! The roof terrace with real trees is also special.
Climate
The temperature in the Depot is between 18 and 20 degrees and the humidity is kept at exactly 52% in order to be able to optimally store all art. The Boijmans Van Beuningen Depot is the first public art depot in the world that provides access to the entire collection.
Nicknames
As is often the case in Rotterdam, the Boijmans Van Beuningen Depot in the Museum Park has already been given various nicknames. Popularly, the new reflective building is often referred to as "The Bucket" or "Flowerpot". We think it's like an egg, but a very special one. Thanks to the glass exterior, the Boijmans Van Beuningen Depot is undoubtedly the dream of every window cleaner.