Largest maze in the Netherlands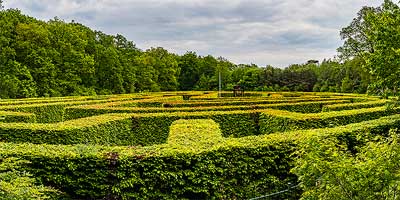 Largest maze in the Netherlands
Ruurlo


Get lost! Guaranteed!
Ruurlo - Find your way to the center in the giant maze of Ruurlo! The total length of the trails is no less than 1188 meters. It is therefore the largest maze in the Netherlands and therefore exciting for small children. Get lost! Guaranteed!
Royal style
The maze in Ruurlo dates from 1890 and is therefore more than a century old. It is set up in Louis XIV style following a design from 1686 by Daniel Marot, the French landscape gardener of Stadholder William III. The maze in Ruurlo is not only the oldest labyrinth, it is also the oldest maze in the Netherlands.
Marot also designed the gardens of Paleis Het Loo, the garden of palace Huis ten Bosch and in England the gardens of Hampton Court and Kensington Palace. The design of the Ruurlo Maze is based on the hedge maze of Hampton Court. At the time, the client was the noble Van Heeckeren van Kell family.
Wide paths
The wide paths of the maze are special. The paths are protected by a hornbeam hedge and are 5 meters wide. This makes the maze large (8740 m2), but it is fair to say that it is not that difficult to find the tower in the middle. But the fun will be no less!