Oranjehotel Scheveningen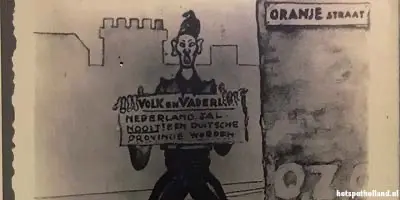 Cartoon from the war
Scheveningen


Scheveningen prison during Second World War
Scheveningen - The Oranjehotel ("Hotel Orange", named after the Dutch national color), was the nickname for the German prison in Scheveningen during the Second World War. Between 1940 and 1945, more than 25,000 people were held here for interrogation and trial. In this prison people were held on suspicion of anti-German activities, such as resistance fighters, Jews, Jehovah's Witnesses, but also, for example, political prisoners and black traffickers. During the war, the Scheveningen prison was nicknamed 'Oranjehotel', because of the resistance fighters who were locked up here.
Transport to concentration camps
Many prisoners were transported from the Oranjehotel to German prisons and concentration camps. 250 prisoners were executed on the nearby Waalsdorpvlakte.
Death cell 601
Death cell 601 was one of the death cells in the Scheveningen prison during the war. Through the gate on the Van Alkemadelaan the people sentenced to death were taken from the prison to the Waalsdorpvlakte. On the outside wall of the prison, on the Stevinstraat, is a plaque in memory of the war.
After the war
Immediately after the war, the prison was used to lock up collaborators, including NSB leader Anton Mussert.
Since 2009, the prison is no longer in use as such and is set up as a memorial center. Of the 500 original cells, 120 are left.
The Oranjehotel is now an impressive National Monument.