Japanese Garden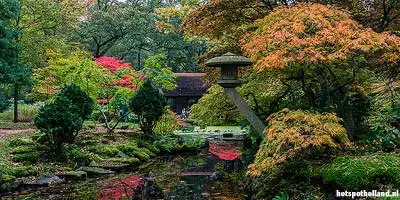 At the Clingersael estate in The Hague
Den Haag - The Clingendael Estate in The Hague is a beautiful park for walking and enjoying nature. The Japanese garden is located on the estate. The garden is not large, but it is special. Due to its fragility, the Japanese garden can only be visited 8 weeks a year; a few weeks in late spring when the special flowers and plants are in bloom and in autumn when fall shows its most beautiful colours.
Spring and autumn in the Japanese Garden
The planting gives the Japanese Garden in The Hague a special atmosphere. In autumn, the various Japanese maples turn from yellow to red and their brilliance is enhanced by the sun and reflection in the water. During the spring opening, it is mainly the flowering azaleas, rhododendrons and ornamental cherries that attract attention.
From the Japanese pavilion at the back of the garden you have a beautiful view of the garden.
Did you know that the basic elements of the Japanese garden are water, stone and the color green?
Japanese Garden history
The Japanese Garden on the Clingendael estate was laid out in 1910 by Baroness van Brienen. In the 1950s, the Municipality of The Hague became the owner of Clingendael and opened the beautiful gardens on the estate to the public free of charge. Thanks to its historical value, the garden became a national monument in 2001.