Winterswijk quarry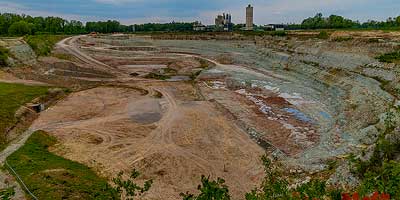 Winterswijk quarry
Winterswijk


Open-cast mine of un-Dutch proportions
Winterswijk - Winterswijk quarry is an open-cast mine of un-Dutch proportions where lime is extracted on a large scale. This lime originated in the Triassic, 240 million years ago. The quarry is known for fossils, ranging from shells to bone remains and footprints of saurians and different types of minerals.
Muschelkalk Sea
The limestone quarry is located just east of Winterswijk. The slab of limestone lies on the surface and is three kilometers long, one kilometer wide and forty meters thick. It was once the bottom of an inland sea: the Muschelkalk Sea. Marine and terrestrial animals left their traces in the silt in the lagoons of that sea. Layer after layer, the remains accumulated and are the limestone of today. It is unique for this part of the Netherlands that the limestone lies on the surface.
Quarries
The Winterswijk quarry covers 27 hectares and consists of three quarries. Quarry I is in-active. Quarry II is owned by the Dutch forrest administration. Lime is only extracted in Quarry III.
Winterswijk Gold
Besides limestone and fossils, something else is found in the quarry: Winterswijk gold. Unfortunately it is not really gold that shines here. It is pyrite.