Huis Bergh Castle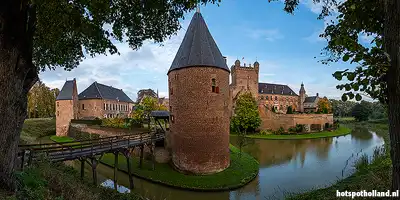 Huis Bergh Castle
s-Heerenberg


One of the largest medieval castles in the Netherlands
s-Heerenberg - Behind the meter-thick walls of the keep of Kasteel Huis Bergh are the weapon and coin room. This fortified residential tower has been the safest part of the castle for hundreds of years. It has never been taken. From the top, the count had a good overview of his lands. The residential tower of Kasteel Huis Bergh contains a number of ingenious escape routes and a unique feature: a turd catcher. But more on that later. The 12th century Huis Bergh Castle is one of the largest medieval castles in the Netherlands.
Huis Bergh Castle overview
You reach the outer bailey via a small gate, a bridge and again a gate. Around the courtyard of the outer bailey are the Poortwachterswoning and the Rentmeestershuis, which now houses a restaurant and offices. Besides walls and another bridge, there is also a Flat tower and a Round tower. In these last 2 you can spend the night like a king.
From the outer bailey you reach the main castle via a bridge. Within the walls of the main castle you will find successively a keep with a weapon and coin room, the main building and a chapel. Via the landing you reach the hall, the Italian room, the Throne Room, Antonius Room, Habsburg Room and a small courtyard.
Escape routes
Huis Bergh Castle has been attacked several times, but the large residential tower has never fallen. In case the tower became untenable, there were no fewer than 6 routes to get out of. One of these leads to a tunnel under the moat and ends in De Plantage, the forest behind the castle.
Turd catcher
In many castles, the toilet hung above the moat. Turd counters of the attacking party therefore closely monitored how often the toilet was used. This enabled them to estimate quite well how many defenders were present in the castle. But not in Huis Bergh Castle! The toilet drain is hidden from view of the outsider here.
Housing trends
Did you think that living trends are something of modern times? Nothing is less true. For example, a chapel was added to the castle and a platform was added according to the latest fashion trends. For this, even the area in front of the platform was significantly lowered and sight lines were adjusted. Nobility was vain too!