Afrika Museum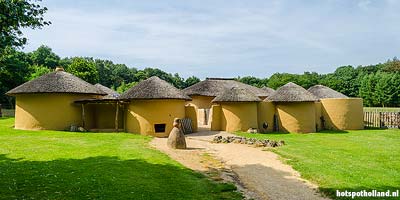 Ghana village in the Africa museum
Berg en Dal


Museum for African art and architecture
Berg en Dal - Africa is a huge continent. It covers about 20% of all land area on Earth. Between the most northern tip, Cape Angela in Tunisia, and the southernmost tip on Cape Agulhas in South Africa, there are about 54 countries with an enormous diversity of people and nature. In the Africa Museum in Berg en Dal (Nijmegen area) you will become acquainted with the overwhelming traditions and cultures of Africa.
Note: The World Museum Berg en Dal, the former Africa Museum, closes on November 27, 2023
Africa Museum indoor and outdoor
In the indoor museum there is ample attention for African art. Outside you can take a walk through pieces of Africa, ranging from a village from Ghana, a Dogon village from Mali to the stilt houses on the coast of Benin.
There are also guided tours and various workshops such as blacksmithing, making fire and jewelry.