Thickest tree in the Netherlands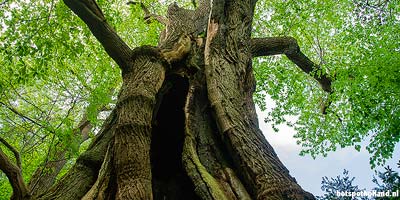 The Gnome Tree in the Chestnut Valley at Heerlijkheid Beek
Berg en Dal


Between Beek Ubbergen and Berg en Dal in Gelderland
Berg en Dal - Diet trees do not exist. The thickest tree in the Netherlands took about 4.5 centuries to develop into a record tree. The observed size of the trunk depends on the measuring method (where do you measure and do you assume the circumference or the diameter at the thickest place), but the Tree Foundation keeps it at a circumference 850 centimeters. Regardless of how you measure, this is an absolute record!
The Gnome Tree
This record tree, also popularly called the gnome tree, is a sweet chestnut (Castanea Sativa) and is located on the
Heerlijkheid Beek
estate.
The estate is located on a steep ridge that originated in the penultimate ice age when the sliding ice from the far north came to a halt here and formed a moraine. Due to the height difference, this area was already of strategic importance in Roman times. The Romans brought the sweet chestnuts from other places and planted them here. Since then, the descendants of those chestnut trees can be found all over the area here.
Grenade impact in the Gnome Tree
The gnome tree is hollow inside. The fairytale goes that you can lure the gnomes out of the tree with a song (hence the name Gnome Tree). A more plausible explanation for the hollow in the tree is a grenade impact during World War II.
Heerlijkheid Beek
The Kastanjedal is located on the
Heerlijkheid Beek
estate, a beautiful walking area with considerable height differences and beautiful views.