Amsterdam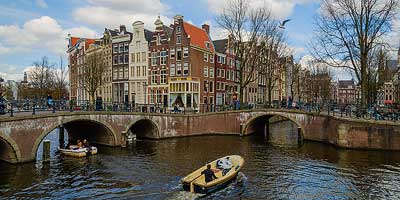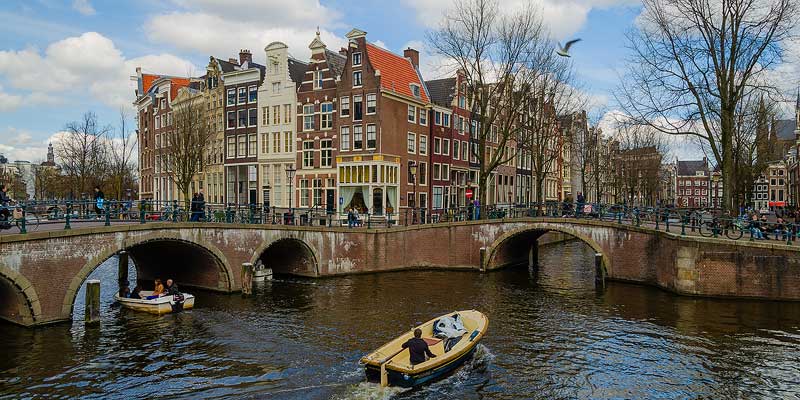 The famous canals in Amsterdam
Amsterdam


The other things you should pay a visit to
Amsterdam - Those who visit Amsterdam will definitely not be bored! Besides the usual highlights described in every guide, you can also discover the hotspots further away from the city center - or when you want to stay in the centre, explore it from a different angle: from the water.
Amsterdam from the water
The city from a different angle
Summertime in Amsterdam: people are enjoying a cool drink on one of the teraces, a picknick in the park or escape the city on one of the nearby beaches in Zandvoort or Bloemendaal. But if you are looking for a cool breeze in the city, you definitely have to make a little boattrip. 7 tips:
1. The canals
With 100 kilometers of canals and more than 1500 bridges there is a lot to discover in Amsterdam. The most famous canal is the Prinsengracht.
2. The Skinny bridge and the Hermitage
3. James Bond in Amsterdam
Back in the seventies, the Diamonds are Forever was recorded in Amsterdam. In the movie 007 is an undercover diamond smuggler. The movie was recorded around the Skinny Bridge (see above) and the Reguliers canal. His cover was not very good. In the movie James speaks a few words German instead of Dutch.
4. IJ river with the large cruise vessels
Near Amsterdam Central Station is the dock located for large cruise vessels. A spectacular sight!
5. National Maritime Museum (Scheepvaartmuseum)
The Martime Museum building is dated 1656. It is here that the war ships of the Dutch Republic were equipped during the Golden Age. The National Maritime Museum has a rich collection of navy artifacts. At the quay in front of the building you can visit the replica 'Amsterdam', a large three masted vessel of the Dutch East India Company. When visiting the ship you can see how small and primitive spaces were to house 350 people during the ship's journey to the East.
6. Western Islands (Westelijke Eilanden)
The Westelijke Eilanden is a neighborhood of Amsterdam. The shipyards and the warehouses were in use centuries ago. Now it is a popular place to live.
7. Free boat trip
Amsterdam North: Visit the other side of the IJ river
Looking for a short boattrip? Take one of the little ferries behind the Central Station and sail to the other side of the IJ river. It's free and the ferries operate 24/7. The northern part of Amsterdam is being heavily developed. At the waterfront, visit the Amsterdam Tower (on the rooftop the highest swing of the world) or the Eye Film Institute. This spectacular building offers a great view over the water. The institute is completely dedicated to film. It offers exhibitions, films (for children) and activities for all ages.