Rijksmuseum Amsterdam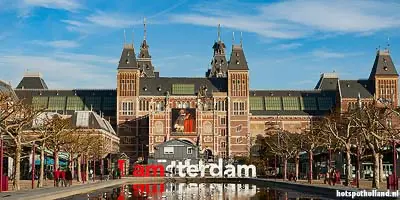 The Rijksmuseum in Amsterdam
Amsterdam


The largest museum of the Netherlands is a national treasure
Amsterdam - Amsterdam's Rijksmuseum is famous for its large collection of art, from the Middle Ages until the 20st century. Visitors will especially enjoy the internationally renowned collection with paintings from the Dutch Golden Age (17th century) which includes paintings from Johannes Vermeer, Frans Hals, Jan Steen and Bartholomeus van der Helst. The Rijksmuseum, the largest museum in the Netherlands, is also the home of the world's largest collection of Rembrandt paintings, including The Night Watch.
In addition to works from the Golden Age, the Rijksmuseum houses countless other works of art from the Middle Ages to the 20th century. It's so big that you can't possibly see everything during a visit. The amount of art is endless. Therefore our hotlist with the most beautiful works that you should definitely not miss:


5 Masterpieces Rijksmuseum Amsterdam
The Rijksmuseum in Amsterdam is a true treasure trove. The museum houses countless special works of art from the rich Dutch history, up to the 20th century. The more than eighty rooms are packed with paintings, drawings, sculptures and other objects by our most important artists. It is almost impossible to choose the most beautiful from over 7000 works of art. That is why our own (subjective) top 5 of the most beautiful and famous works of art in the Rijksmuseum.
1

Night Watch

A visit to the Rijksmuseum is not complete without seeing the most famous and largest painting by Rembrandt. A painting of gunmen was nothing new in its time. However, Rembrandt was the first to paint a group portrait in such a lively manner. The famous artist included a little joke in his painting. Have a close look and you will see at the left behind the Master himself, somewhere in the background.


2

The Milkmaid

A maid serving milk. Everything seems to stand still - except the milk. Come and admire this iconic painting up close and see for yourself how realistic Vermeer was able to paint.


3

Self-portrait, Vincent Van Gogh

Vincent van Gogh is the most famous impressionist from the Netherlands. His special paintings and his tragic story make Van Gogh one of the greatest Dutch artists of his time.


4

Hugo de Groot's bookcase

Everyone knows the story of Hugo de Groot who managed to escape in a book chest. But what did that box actually look like?


5

Square man

There is also room in the Rijksmuseum for more modern works. Our favorite? Karel Appel's 'Square Man'.