Anne Frank House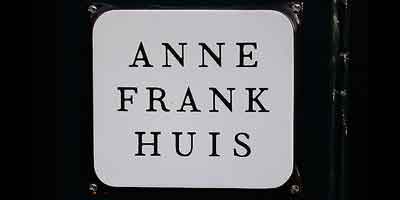 The Anne Frank house at the Prinsen canal in Amsterdam
Amsterdam


And the secret behind the bookcase
Amsterdam - Anne Frank was born in 1929 in Frankfurt am Main in Germany. Margot, her sister is 3 years older. Otto and Edith Frank, their parents, are very worried when Hitler and his Nazi-party take over the German government and decide to move to Amsterdam in 1933. In 1940 Nazi Germany invades The Netherlands and the family is no longer save once more.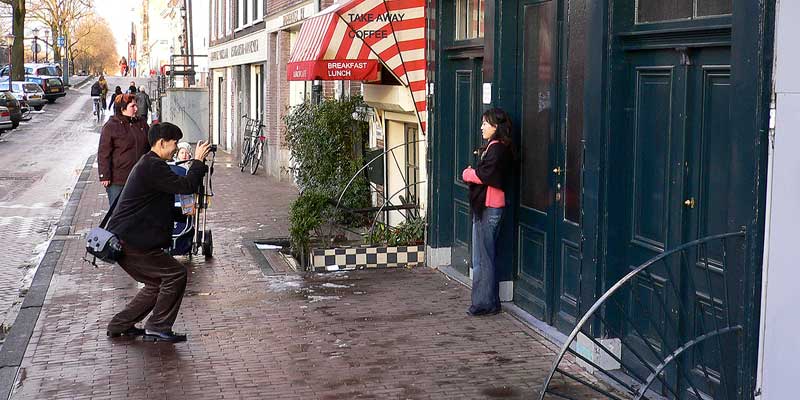 Tourists in front of the Anne Frank house at the Prinsengracht canal 263 in Amsterdam

Into hiding
During the Nazi occupation the family decides to go into hiding on a secret location in the city center of Amsterdam called "het Achterhuis". It's a typical Amsterdam canal house being used as office/warehouse with steep interior stairs. Anne's family share the location with the Van Pels family and later on with an additional 9th person. The place is very crowded. The families only have limited privacy and must live in near silence.
Anne's diary
Anne collects her feelings and thoughts on a daily basis in her personal diary. In 1944 they are betrayed and on August 4th they are all arrested by the Germans and sent to Auschwitz. Only Otto Frank returns after the war. The others all died of disseases, exhaustion or are murdered in the gas chambers.
The Anne Frank House museum tells the full and impressive story of Anne Frank and her family.
Statue at Merwedeplein
From 1933, when Anne's family left Frankfurt am Main in Germany to escape the Nazis, until 1942 when they entered their Prinsengracht refuge, Anne lived at Merwedeplein 37 in the
Rivierenbuurt
area. In 2005 a bronze statue of Anne was unveiled on the square at Merwedeplein. Her father Otto bought Anne's diary as a present for her 13th birthday around the corner in a shop at Rooseveltlaan (formerly known as Zuider-Amstellaan) 62.