Keith Haring Mural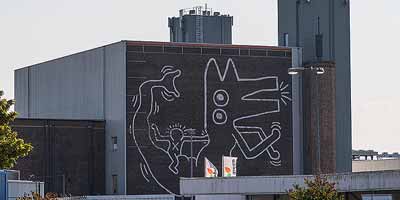 Keith Haring's recently unveiled mural in Amsterdam
Amsterdam


Largest Mural in Europe
Amsterdam - In 1986 Keith Haring painted a 40-foot-tall mural on a facade of a brick building in Amsterdam while he was in town for his exhibition at the Stedelijk Museum. For 30 years the wall was covered by weatherboarding, but in 2018 the wall has been revealed again.
Fantasy monster
The characteristic painting is one of the twenty public works by the American artist Keith Haring. He made it at the time when he was in Amsterdam for a solo-exhibition. Because the depot suffered from moisture, it disappeared behind a thick layer of insulating material after two years. In the summer of 2018, the insulation plates were removed and the work can be seen again by everyone.
The fantasy monster with rider wall painting measures 15 by 13 meters.