Birthplace Johan Cruijff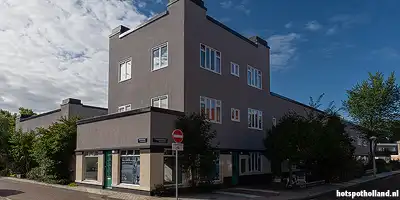 Birthplace Johan Cruijff, Amsterdam Betondorp
Amsterdam


The legendary number 14
Amsterdam - The birthplace of the legendary number 14, Johan Cruijff, is located in Betondorp in Amsterdam. The legendary soccer player lived here from his birth in 1947 until his father's death in 1959. His parents had a greengrocery shop here in the corner house.
Corner house
Johan Cruijff's birthplace is a corner house on the corner with Tuinbouwstraat. His parents had a greengrocer's shop here at the time, which is why the building has large windows. The ground floor apartment has two bedrooms and a garden with a spacious barn.
Playing outside should be a subject at school
Birthplace Johan Cruijff for rent
In August 2022, the birthplace of Johan Cruijff was rented out. More than 1500 interested people wanted to live there. There are stickers on the windows of the house with statements by Cruijf such as "Playing outside should be a subject at school". These must remain in place by the housing association.
Incidentally, it is not the first time that the house of the soccer player who died in 2016 has been rented out. That happened also in 2018. At that time the rent was about 700 euros.
For the soccer fan: house with a unique history
Social rental home in the heart of Betondorp, Amsterdam
Ground ground floor apartment on a corner with 'spacious living room' and 2 bedrooms
Area: 62 square meters
Suitable for two to three people
Spacious backyard with shed
Rental price: 762 euros per month