Capitulation of the Netherlands 1940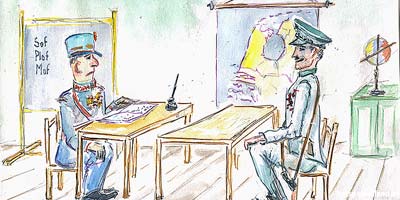 Capitulation of the Netherlands 1940
Ridderkerk-Rijsoord


Surrender to Germany, signed in the Johannes Post School in Rijsoord
Ridderkerk-Rijsoord - People who neglect their defence, risks their freedom. This text can be read on the monument in front of the Christian Johannes Post school on the Rijksstraatweg in Rijsoord. Five days after the start of the Second World War, in May 1940, an important historical event took place in this school.
Neutral Netherlands?
During the First World War, the Netherlands was a neutral country. When Germany invaded Poland in 1939 and with it the Second World War broke out, the Netherlands declared itself neutral again. Despite this statement, the Germans invaded the Netherlands on May 10, 1940. Although the Netherlands was able to resist in a number of places (including the Grebbeberg and at Kornwerderzand on the Afsluitdijk), the force majeure was too great for the poorly armed Dutch army. After Rotterdam was bombed by the Germans, the Netherlands surrendered.
General Winkelman
On May 15, 1940, only five days after the outbreak of war in the Netherlands, the then commander-in-chief of the Dutch army, General Winkelman, signed the capitulation of the Netherlands in this Johannes Post school in Rijsoord.
From that Wednesday in May, the Netherlands would come under German rule for almost five years.