Windmills of Kinderdijk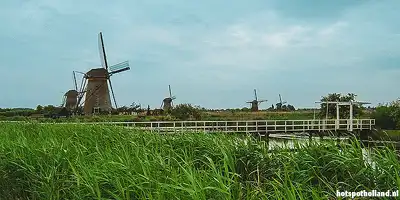 The windmills of Kinderdijk
Kinderdijk


The most well-known symbol of the Netherlands
Kinderdijk - The village of Kinderdijk is one of the highlights of the Netherlands. It's probably the most archetypal of all Dutch scenes. Kinderdijk is located at the crossing of 2 rivers, close to Rotterdam. It's the ideal place to see how the Dutch won land from the water and to get a feeling of living below sea level.
19 historic windmills
19 historic windmills at Kinderdijk are idyllically situated at both sides of a canal in a typical Dutch landscape. The windmills pump the water in steps over the dyke into the canal.
Kinderdijk is an Unesco World Heritage Site located by the Lek River, southeast of Rotterdam.