Dordrecht city trip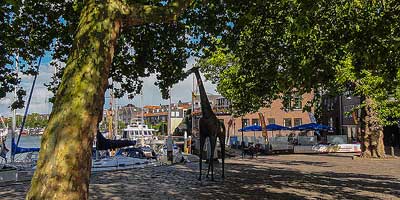 Dordrecht. Historic city near the Biesbosch
Dordrecht


Historic city near the Biesbosch
Dordrecht - Dordrecht is the oldest city in Holland. At the Groothoofd you have a great view of the Three River Point where four(!) of the busiest rivers in the Netherlands converge. It is high time to investigate whether Dordrecht is suitable as a destination for a short city trip!
Settlement at the river
Thuredrech
was once a small settlement near a ford of a peat river. 1000 years later, Dordrecht is a medium-sized city at the confluence of the
Beneden Merwede
,
Noord
and the
Oude Maas
. The city has about 118,000 inhabitants. Thanks to its rich history - in the Middle Ages, Dordt was one of the six major cities of Holland - it is now a pleasant medium-sized city where you can shop or stroll through the ancient streets of the 'island of Dordrecht'.
Three-rivers point with four rivers
Busiest sailing point in Europe
At the Groothoofd you have a fantastic view of the Drierivierenpunt. Here the
Beneden Merwede
(right) splits into the
Noord
(opposite) and the
Oude Maas
(left). Unfortunately invisible from the Drierivierenpunt, but on the right the
Wantij
also ends up on these rivers. With 150,000 passing ships per year, this is the busiest sailing hub in Europe.
You have a completely different view from the Grote Kerk. Climbing the tower takes 269 steps, but as a reward you get a wide view of the city with the Island of Dordrecht and the rivers.
Shop 'til you drop
Nice long shopping in Dordrecht
Fanatic shoppers have known for a long time: the Voorstraat in Dordrecht is the longest shopping street in the Netherlands. Nice to know is that painter Vincent van Gogh worked another blue Monday in an office bookstore on this street. That was not a success. Fortunately, painting went better!
Day out or weekend away?
Dordrecht is a great destination for a day of shopping and to enjoy a terrace on the water. For a weekend getaway, there may be little to do; there are no major museums or attractions and the hotel offer is somewhat limited. It is nice to take the fast boat to Rotterdam or to spend an extra day in the Biesbosch National Park.