Dutch design: Cube-houses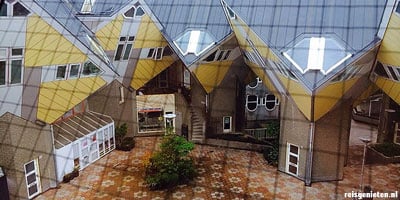 Rotterdam Cube houses
Rotterdam


Living in a cube
Rotterdam - Ever imagined how it would be to live in a cube house? Be amazed by a house without any straight wall. The tilted cube houses in Rotterdam are world famous and are designed by Dutch architect Piet Blom.
The cubes are apartments, but there is one cube open for visitors. This show-cube gives a good impression of how one can live in such a squared house. If you want to buy a cube house, below is a typical advertisement from the estate agent:


For Sale: Cube house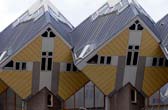 For Sale: Unique 4 room cube house in the 'Blaakse Bos'. Centrally located in the city of Rotterdam. The cube house is on walking distance from Blaak railway station, the Old Harbor and the downtown shopping center.
Cube house floorplan:
Ground floor:
Entrance, hall with wardrobe. Bike shed (via outside).
First floor:
Bright living room with luxury open kitchen with various appliances, toilet, staircase to the sleeping room with original stairwell of designer Piet Blom.
Second floor:
Overflow and storage room, bathroom with washbasin furniture and walk in shower or bath, spacious master bedroom with large walk in closet, smaller second bedroom.
Third floor:
Romantic top room with a view. The top room can be used as bedroom, for hobby or relaxing. Not suitable for tall people.
Remarks:
Copyhold. The tax is around EURO 88,00 a month (2014).
The cube house is a future Municipal Monument.
Heating and hot water is managed by district heating.
Total surface approximately 100 m
2
.
Volume approximately 400 m
3
.