Old Port of Rotterdam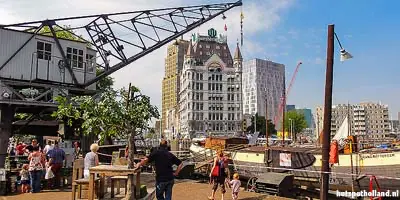 Shipyard Koningspoort in the Old Port of Rotterdam
Rotterdam


Oldest part of the harbor
Rotterdam - Over time, port activities in Rotterdam have moved further and further out of the city. If you want to see some of the ships and activity, the best way is to take a boat trip or drive through the huge harbor area by car. However, in one place in the center you can still soak up the port activities of yesteryear. Here you can still hear the old-fashioned hammering, sawing and sanding. Here is still really being painted and tarred and there is a historic ship on the old shipyard. Welcome to the Old Port of Rotterdam.
Skyscrapers
The Old Port of Rotterdam is located at the foot of the White House. The first skyscraper in the Netherlands is (of course) in Rotterdam and miraculously survived the war. The White House has now been overtaken in height by the residential towers in the vicinity.
Rail bridge
The building that stands in the middle of the water of the Oude Haven is a foot of the former railway bridge. This bridge connected both banks of the Nieuwe Maas for decades. Nowadays the trains from Blaak station run through a tunnel. When a heavy train goes through the tunnel, you can sometimes feel the vibrations in the harbor on board a ship!
Bridge tour around Old Port
The Oude Haven itself is not that big. It is, however, a beautiful part of Rotterdam to wander around. In the vicinity of De Oude Haven are the Cube Houses and the striking Market Hall. Walk across the red Willemsbrug to the Noordereiland area. Enjoy the view of the Rotterdam skyline and the ships on the Nieuwe Maas. The Noordereiland lies across the Willemsbrug with the famous "De Hef" bridge on the other side. You return to the center via the Erasmus Bridge.