Highest dune in the Netherlands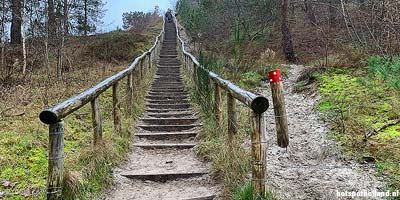 Schoorl dune stairs
Schoorl


Schoorlse Dunes
Schoorl - The highest dunes in the Netherlands lie along the North Sea near Schoorl in North Holland. Some dune tops are more than 50 meters high. In 1900 Staatsbosbeheer started planting trees and the free play of the sand came to an end - but in its place there is now a beautiful forest where you can hike, mountain bike or ride a horse.
Highest dune
It was long thought that the highest dune in the Netherlands was located near Zoutelande in the province of Zeeland. Although this dune top is 54 meters high, a measurement in 2014 showed that the highest dune at Schoorl was one and a half meters higher. The dune at Schoorl is at 55.4 meters the highest dune in the Netherlands.
Dune stairs
The Duintrap is located just behind the Buitencentrum Schoorlse Duinen. This staircase leads you to the highest dune in the Netherlands. From the top you have a nice view, but this is where it actually starts. Choose a path and walk through the beautiful surroundings through the woods, past heath and drifting sand areas to the sea.
Climbing dune
From the center of Schoorl you can walk up the 51 meter high Klimduin. But it is even better to run fast on this wide sandbox.
The Kerf
At De Kerf, the sea has had free rein again since 1997. During spring tide and a north-westerly storm, the North Sea has free access to the dune valleys behind it. Thanks to the salty water, a new landscape is created here with plants such as samphire and sea rocket.