Fort island IJmuiden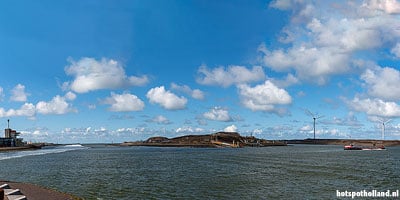 Fort island IJmuiden, seen from the harbor
IJmuiden


Defense Line of Amsterdam
IJmuiden - Fort island IJmuiden is strategically located at the mouth of the port of IJmuiden. The imposing fort is part of the Defense Line of Amsterdam and served to protect the North Sea Canal and the IJmuiden lock complex. What is special is that initially the fortress island was not an island at all.
Largest fort of the Defense Line of Amsterdam
The only fortress islands of the Defense Line of Amsterdam are the island of Pampus near Muiden and the fort in the harbor of IJmuiden. The Fort of IJmuiden is the largest fort of the defense line around Amsterdam. Spread over three floors, there are different areas. For example, the fort had five heavy guns for coastal defense and an armored cupola with two guns for the defense of the sea locks and the North Sea Canal. The various spaces are connected by an underground network of corridors of five hundred and eighty-five meters.
How Fort IJmuiden became an island
When the Fort at IJmuiden was built between 1880 and 1887, it was located on the northern harbor mouth. In the 1920s it became a fortress island when a new canal was dug north of the fort.
World War II: Festung IJmuiden
During the Second World War, extra bunkers were built by the Germans and the fort was used as a crew quarters. The turret and guns were removed and melted down by the Germans, but the armored gallery has remained. From this time there are also some soldier drawings behind the armored gallery.