Louwman National Motor Museum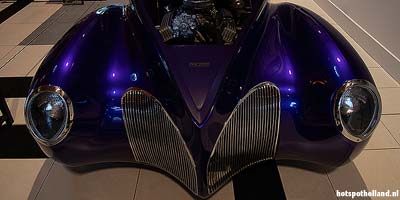 Louwman National Motor Museum The Hague
Den Haag


The oldest, craziest, most expensive and fastest cars of the world
Den Haag - Buckle up and enjoy the beautiful Louwman car collection in The Hague. The Louwman National Automobile Museum is the home of the world's oldest private collection of motor cars. The museum exhibits over two hundred and fifty antique, sports and classic motor cars. If you are car crazy and interested in the history of automobiles from the first horseless carriages trough steam, motorised and electric vehicles, this is the museum you should pay a visit to!
The special car collection has been gathered by the Louwman family. The cars are exhibited since 2010 in a new museum building in The Hague.

No speed limits
A remarkable car is the Porsche 356B. The car has been used by the Dutch traffic police until 1966. At that time there were no speed limits and crash barriers in the Netherlands. The Porsches were being used to reduce the number of accidents.
Policemen driving the Porsches had to be married and to be a father as the idea was that they would not take any unnecessary risks.