Plompe Toren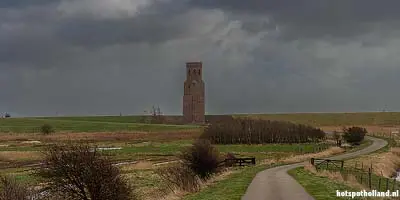 Koudekerke Plompe Toren
Burgh-Haamstede


Koudekerke on the Oosterschelde
Burgh-Haamstede - The history of Zeeland is that of the water. The village of Koudekerke, on Schouwen-Duiveland, was located on the Oosterschelde in the fifteenth century. The sea dyke that was supposed to protect the village at the time was still three kilometers beyond the current dyke. During storms, the dikes sometimes collapsed or were undermined by channels under the coast. In that case, a reserve dike, an in-layer dike, was built behind the sea dike. But what do you do if your village is located between the sea dike and the layer dike?
De Plompe Toren (the Clumsy Tower)
If a village came to lie between the old sea dike and the new inlaag dike, the village was demolished brick by brick, plank by plank and rebuilt further on. In the course of time, no fewer than 14 villages disappeared. It was no different at Koudekerke. The houses and the church were demolished. Only the church tower, the Plompe Toren, remained as a beacon for shipping traffic on the Oosterschelde.