Lighthouse 250 guilders banknote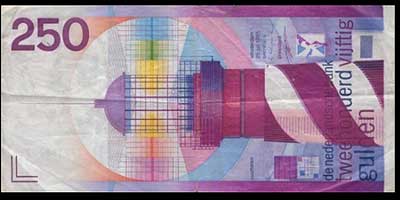 Famous lighthouse 250 guilders banknote
Nieuw-Haamstede


The famous Dutch lighthouse
Nieuw-Haamstede - Before the introduction of the Euro in 2002, Dutch banknotes were perhaps known as the most beautiful in the world. Besides 'het geeltje' ('the yellow one' = 25 guilders), the Sunflower (50 guilders) and 'the Snip' (a bird = 100 guilders), the purple 250 guilder note was a striking appearance. The 50-meter-high lighthouse that served as the model for this banknote has been in Zeeland since 1840. The banknote was obviously called the Vuurtoren (Lighthouse).
Classic lighthouse
The striking lighthouse is located on West-Schouwen, near Haamstede in the Dutch province of Zeeland. It is a lighthouse as it should be. A classic lighthouse with a characteristic skylight and of course beautiful red-and-white strips around the tower. These stripes were installed as a warning for low-flying aircraft.
Did you know?
Nine test - The sum of all the numbers of the serial number on the former Dutch bank notes can be divided by nine
"Twee vaten heeft Iupijn, Hij schenkt nu zuer nu zoet" - The "Vondel I" banknote from 1966 shows the beginning of a sentence from the Poem of Vondel from 1650 in small print. The 1973 "Vondel II" banknote, a redesign, contains the second part of the sentence
Poems - The Kingfisher, designed by Jaap Drupsteen, is a banknote of ten Dutch guilders. It contains a poem by Arie van den Berg. The 250 guilder note, the Lighthouse, has also a poem written by J. Slauerhoff. The 1000 guilder banknote. the Peewit, contains a poem by Koos van Zomeren
Euro bridges - Did you know that you in the village of Spijkenisse near Rotterdam you can see all the bridges from the Euro bank notes?