The Letters of Utrecht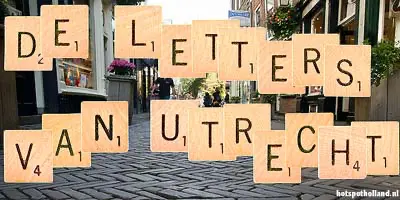 The Letters of Utrecht
Utrecht


An endless poem of paving stones
Utrecht - A never-ending poem is growing in the streets of the Dutch city of Utrecht. One letter at a time, one letter per stone per week, year in, year out. Every Saturday between 13:00 and 14:00 the members of the Utrecht's Guild of Poets gather at the end of the strings of letters and carve the next letter in the pavement. The new letters form new words, then sentences and finally verses. To publish an average sentence takes about three years. The poem grows with a speed of five meters every year.
You have to start somewhere to give the past a place, the present is getting less and less. The further you are, the better. Go ahead now, ...*
Starting point
The project started on June 2, 2012. But as a start the Guild of Poets retroactively added 648 letters to have a start date of January 1, 2000 and off course a more appealing start of the poem. The letters of the poem are payed by sponsors. A letter costs euro 100 each. The project will run as long as there are sponsors.
The poem: what's up next?
Once a section of the poem ends, another poet picks it up where it was left and continues. The following words are not disclosed until a new letter has been revealed on the streets of Utrecht. The Guild of Poets already mapped out its future path, which will one day wind through the city just like the canals of Utrecht.