Utrecht UFO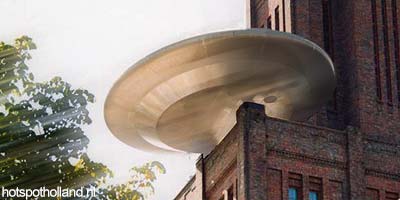 Code rood! UFO alert in Utrecht
Utrecht


The truth is out there
Utrecht - Roswell New Mexico is known as Alien capital of the world. Following the story, in the night of 8 July 1947, an US army weather balloon crashed. But ufologist know better: the Unidentified Flying Object that crashed that night was extraterrestrial and the proof for the existence of aliens is stored at Area 51, America's top secret army base.

But why pay a visit to Roswell? Enjoy the city of Utrecht and eyewitness the landing of an UFO... the truth is out there!
Near Utrecht Central Station, the main public transport hub in the Netherlands, you can see an UFO balancing on the roof of the headquarters of the Dutch Railways. The device has a diameter of 12 meters. Unfortunately the UFO is not open to the public... that's also in the Netherlands "classified".