Utrecht Dom Tower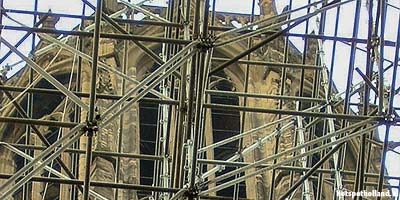 Dom Tower Utrecht
Utrecht


The tallest church tower in the Netherlands
Utrecht - Who has the tallest? Over the centuries, cities have been competing to build the largest church tower to show their power and wealth. Although many churches were built for eternity, things sometimes went wrong. For example, the Oldehove in the city of Leeuwarden slumped and partly collapsed, leaving a blunt tower. In Utrecht, the tower survived the centuries with ease, but after a heavy storm, part of the church collapsed. The church is now separate from the tower, leaving the highest church tower in the Netherlands stand alone.
465 steps to the top
To enjoy the view from the Dom Tower, you have to climb no less than 465 steps. You are then almost at the top. Almost, because the real top is even 10 meters higher, at 112 meters. But these last meters don't matter anymore for the view over the city and the surroundings. When weather permits, the view from the Dom Tower is just breath taking.
The Dom church
During a severe storm in 1674, the nave of the church collapsed. This part of the church has never been rebuilt, so the tower has been separate from the church ever since. On the occasion of the 750th anniversary of the Dom Church in 2004, the missing part of the church between the tower and the church building was rebuilt by scaffolding, giving you a nice impression of the dimensions of the church at the time.