National Park the Maasduinen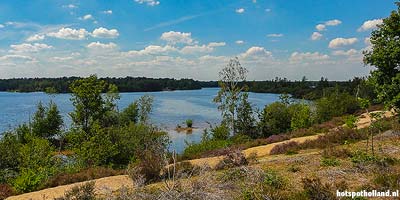 Reinders lake in National Park De Maasduinen
Well


Visit the Limburg dunes
Well - You expect dunes by the sea and certainly not anywhere in Limburg near the Meuse river. Nevertheless, you can enjoy walking through the dunes in National Park De Maasduinen; but without sea air and without seagulls. But with plenty of sand and hopefully a bit of sun!
Drifting sand
The Maasduinen is elongated. The area consists of several contiguous nature areas. The landscape on the east side of the Meuse river mainly consists of forests and heaths. Here the dunes are partly hidden. The sand drifts are beautiful. The dunes here were created at the end of the last ice age about 100,000 to 10,000 years ago. The sand that lay here was blown up by the wind into dunes.
River dune route
The River Dunes Route is a short walk along the dunes. From the sand tops you have a beautiful view of the area.
Bergerbos / nature reserve Quin
The Bergerbos in the nature reserve of Quin is also beautiful. The forest is enclosed by various dunes.