National Military Museum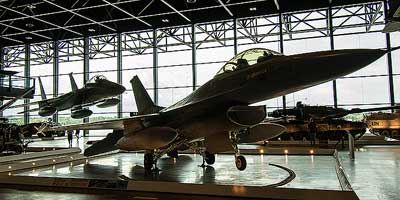 National Military Museum
Soest


At Soesterberg Air Base
Soest - The National Military Museum (NMM) is housed in a spectacular museum building on the site of the former Soesterberg Air Base. The defense museum shows the history of military aviation and the army in the Netherlands.
Air Force Development
The museum shows the entire development of Dutch military aviation. In the main hall you can see the first small Fokker planes, up to more modern F16 fighter jets. There is also a Catalina seaplane and various helicopters are set up. There are fun experiments and flight simulators for the children so that you can test yourself whether you are ready to take to the skies in an F16 fighter plane. Are you ready for take off?
Nature reserve
In addition to the museum, you can also visit the surrounding Park Soesterberg Air Base. The nature reserve on the site of the former airbase has been open to the public for the first time in 100 years since 2014. The area is freely accessible in daylight every day.