National Museum of Antiquities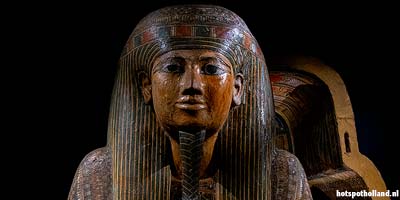 The National Museum of Antiquities in Leiden
Leiden


Ancient marvels in the National centre of archaeology
Leiden - Besides the history of the early Netherlands you can also learn more about the cultures of ancient Egypt, the old Greeks and the Near East in the Dutch National Museum of Antiquities (Rijksmuseum van Oudheden). Welcome to the Classical World!
Special Egypt collection
In order to receive eternal life, the ancient Egyptians had themselves mummified. The journey to the realm of the dead was not possible without a physical body. What they could never have imagined, however, is that their journey to the afterlife would end in a display case in Leiden. In addition to jewelry and other objects, they sometimes also took crocodiles, cats, birds and other animals into the grave. These animals were also mummified.
More than 80,000 objects from Ancient Egypt, Greece and the Middle East are brought together in the National Museum of Antiquities in Leiden. In the 'Hereafter' section you can see various mummies with their beautifully decorated chests.
History of the Netherlands
In addition to Egypt, the Classical world and the history of the Netherlands are also extensively discussed in the museum. In 2011, the museum opened a new department on the archeology of the Netherlands. A 120-meter long timeline guides you through the history of the Netherlands from the Ice Age.