The Wall Poems of Leiden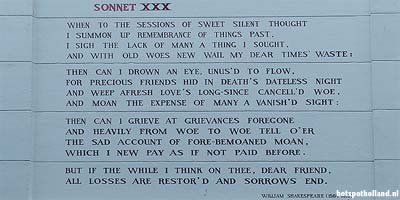 The Wall Poems of Leiden
Leiden


100 poems grace the walls of the city of Leiden
Leiden - What started with a single poem on a wall in 1992, has been picked up by the community. Today, more than 100 poems can be found on the walls throughout the University town of Leiden.
The poems are all hand-painted. Most of them are in Dutch, but some are in English or in another language such as the curvy Lantara script. Another poem is the oldest known Dutch text, written by a Flemish monk in 1100.
Shape poems
Some poems have shapes like the tornado poem or the spike poem.