The Duddel primeval forest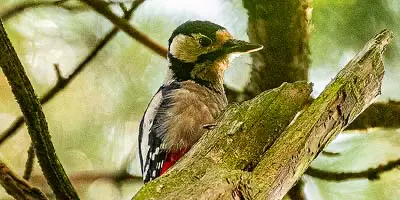 A woodpecker searches for food in a dead tree
Apeldoorn


Odest forest in the Netherlands
Apeldoorn - The primeval forest of Białowieża on the border of Poland and Belarus is the oldest forest in Europe. The ancient forest survived the centuries because it was owned by the Tsar who used it as a personal hunting ground. Today, the forest is the property of bison, lynx, woodpecker and other animals. Unfortunately, we have no old-growth forests in our landscaped Netherlands. However, the oldest forest in the Netherlands also survived time thanks to its owners: the Dutch Royal Family.
The forgotten forrest
'De Duddel' is located in a corner of the ten-thousand-hectare Kroondomein Het Loo in Apeldoorn, property of the Dutch royal family. This area is also known as the 'forgotten forrest'.
Old maps show that on the heaths of Het Loo pine trees were widely planned in the 19th century, with one exception: De Duddel. This area was already somewhat covered with bushes and trees. In the untouched part of Het Loo, a forest has spontaneously formed over the past two centuries.
During the Second World War, Nazi Germans had plenty of trees cut down on Het Loo. But the trees of De Duddel were misfits and therefore not very interesting. This left the forest untouched, saving the oldest bush in the Netherlands.