Apenheul Primate Park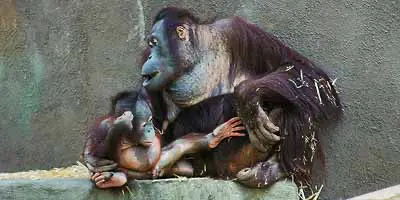 Apenheul Primate Park
Apeldoorn


Monkeys!
Apeldoorn - Ape, monkeys and prosimians can roam free at Apenheul Zoo. It is great fun. The animals in the primate park can climb in the trees above you, walk around or jump on your shoulder. But watch out for 'Monkey Business'! Especially the smaller monkeys are extremely curious...
In nature, you mainly encounter monkeys in the tropical rainforests of Central and South America, Africa and Asia. Most species live high in the trees. The feet of monkeys look almost like their hands with the big toe looking like a kind of thumb. Monkeys can therefore use their feet in the same way as their hands.
Apes
More than 400 different species of monkeys live in the Apenheul, ranging from small pigmee monkeys to large apes such as the gorilla, chimpanzee, bonobo and orangutan. Great apes are distinguished from the other apes by their longer arms than legs, no tail and their cleverness. In addition, great apes spend a lot of time raising their children - just like most visitors to the Apenheul. Because the park is a great destination for a fun day out with the whole family.