Tafelberg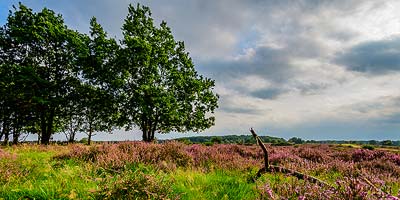 Heath around Blaricum
Blaricum


Highest point of the Gooi area
Blaricum - The Tafelberg ('Table Mountain') is the highest point of region the Gooi. The top of the hill is 39.2 meters above NAP and is marked by a 1400 kilo top stone. From the Tafelberg you have a beautiful view over the surrounding heath.
Kooltjesberg
De Tafelberg is an artificial hill. The place was already a draw in 1700 because you can see for miles from the top. The mountain is named after the stone orientation table that stood on top in the 17th century. In the 18th century the Tafelberg was also called the 'Kooltjesberg'. Coal was fired at the top because at that time the mountain served as a beacon for ships on the Zuiderzee.
The mountain was refurbished in 2019.
From the Tafelberg near Blaricum it is still 9,674 kilometers to the Tafelberg near Johannesburg in South Africa.
Sheepfold
Around 1860, about three thousand sheep walked on the Gooise heath. Now there is still a herd with approximately 45 Drenthe sheep. The sheepfold is usually open on Sunday afternoon. The annual sheep shearing party is held at the beginning of June, but there are often activities at Easter and Christmas too