Naarden Vesting. The fortress city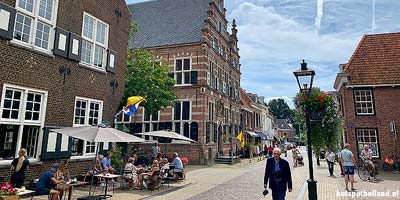 Naarden Vesting. The fortress city
Naarden


City trip to the old fortified town of Naarden
Naarden - The fortified town of Naarden has impressive double city walls with a moat, bastions and city gates. Thanks to its strategic location, Naarden became part of the Dutch Waterline. Naarden-Vesting has a unique pentagonal shape and is still intact to this day. Around the Grote Kerk in the center of Naarden are nice streets with beautiful old houses. Naarden-Vesting is a beautiful charming town.
City walk through Naarden-Vesting
You can take a nice walk around the city over the city walls and get an impression of all the fortifications. There is also a walking path across the city canal. From here you have a beautiful view of the ramparts and the fortress.
Naarden Town Hall
The City Hall at 22 Marktstraat is a great start to a walk through Naarden-Vesting. In the summer, the building is open on weekends. In the hall is a large scale model that gives a nice overview of the town at a glance.
Great Church
Opposite the Town Hall is the Grote Kerk in Naarden, which dates from 1479 and has a beautifully painted barrel vault. Among classical music lovers, the church is known for the annual performance of the St Matthew Passion, which tells the Passion of Christ at Easter.
Commenius
Commenius was a 17th century reformer who advocated education for all, for both boys and girls of all walks of life. His statue stands at the foot of the Grote Kerk in Naarden-Vesting. There is also a Commenius museum in Naarden.
Arsenal
The Arsenal was used to store weapons and ammunition and is therefore located on the other side of the water. The original building dates from 1688. After a fire in 1954, the building was completely rebuilt. Today the Arsenal is the domain of interior designer Jan des Bouvrie.
Near the fortress
If you get off the train at Naarden-Bussum station, you are in Bussum. From here it is a short 3 km bike ride or walk to get to Naarden Vesting. Of course you can also take the bus.
Walking and cycling near Naarden
In the vicinity of Naarden Vesting there are plenty of opportunities for walking and cycling. For example, you can walk around the Naardermeer (a tough 20 kilometers) or enjoy the beautiful heathlands and forests around Laren, Bussum and 's Graveland. The Loosdrecht lake area is also nearby: rent a canoe, sup or sloop and enjoy a day on the water.