The story of Amsterdam - your entry to the city
Amsterdam, a metropolis? Yes, and also small, friendly and unconventional. The city of Johan Cruyff, Rembrandt, Ajax, the Red Light District, the United East India Company and marijuana. The capital of the Netherlands.
Amsterdam is a 1000-year-old commercial city on the water, where entrepreneurship, creativity, citizenship and freedom all meet the eye. In the ancient monument that is the Amsterdam Museum you can see, read, hear and taste how the city came about and why it was- and still is- what it is.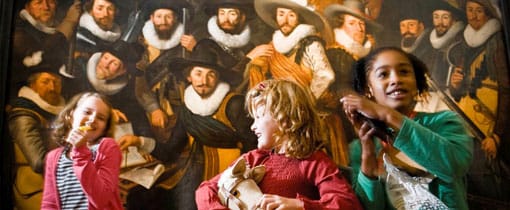 Amsterdam Museum

The Amsterdam DNA presentation offers in less than an hour a fascinating and concise overview of the history of Amsterdam through interactive images, sound, movement and specially chosen objects. Amsterdam DNA is available in the following languages: English, Dutch, French, German, Chinese, Japanese, Russian, Portuguese, Spanish and Italian.
Adress and visitor information
Amsterdam Museum
Address:
Kalverstraat 92
Postal code and city:
1012 Amsterdam
Province:
Noord-Holland
Phone:
+31 (0) 20 5231 822
Email:
sales@amsterdammuseum.nl
Web:
amsterdammuseum.nl
Additional information:
The shortest way to the Amsterdam Museum
By coach / car:
Follow the ring road (A10) towards S100, exit to 'Centrum'. Follow the P signs for parking garages in the city centre. The nearest underground car park is 'De Kolk' on the Nieuwezijdse Kolk. You can also use the underground car park at the Town Hall / Music Theatre.
By public transport:
It will take you about 18 minutes to walk from Central Station via the Damrak, the Dam and the Kalverstraat. Or you can take a tram: numbers 1, 2, 5 (get out at Spui), or 4, 9, 14, 16, 24 and 25 (get out at Rokin).
Let op: The location on the map is an indication. It is not always the entrance, parking lot or best route
Sunrise:




08:26




Sunset:




16:29