9999 XL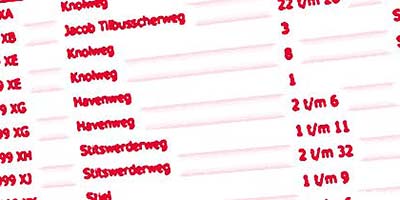 Highest postal code in the Netherlands
Stitswerd


Highest postal code in the Netherlands
Stitswerd - Each country has its own postal code system. Well, not all. There are exceptions. In South America, Africa, Asia and Oceania there are a couple of countries where they have no postal codes or even no addresses at all. For example, in a large country like India, only 40% of the population has an address. And you will not find a zip code at the South Pole either. In the rest of the world, zip codes vary between 3 and 10 digits. Would you choose your house based on a nice zip code? We fancy the highest postal code in the Netherlands. Think about it.. living at 9999 XL sounds great, doesn't it? But yes, the only way to qualify for such a beautiful postal code is to move. Let's check-out Stitswerd, home of the highest postal code in the Netherlands.
The edge of the map
At the edge of the map, in the north of the province of Groningen, is a town with the highest postal code in the Netherlands: the village of Stitswerd.
Stitswerd has about 120 inhabitants and is located in the municipality of Eemsmond in Groningen. The Akkemaweg in the village has the zip code 9999 XL and on the Knolweg it goes even further. Here is the ultimate zip code 9999 ZZ.
Introduction of postal codes
The postcode was introduced in the Netherlands in 1977. Postal codes divide the Netherlands up to street level and consist of 4 digits, a space, followed by 2 letters. The first 2 digits indicate the region and the last 2 digits the district. The letters then indicate the neighborhood and the street.
Not all letters are used. You will never find the combinations "SA", "SD" and "SS" in a zip code due to their annotation with World War 2.