Wall House #2 Groningen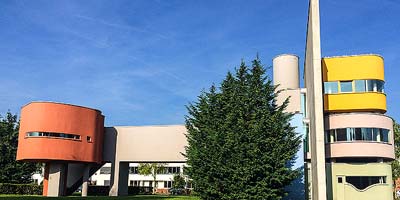 Wall House #2 Groningen
Groningen


A house where the wall is central
Groningen - The wall is the central piece of a Wall House. Wall House #2, also known as the Bye House (after client Ed Bye), is a must see for any architecture student. The building, designed by the American architect John Hejduk, is special because of the enormous central wall that cuts through the organically shaped spaces on either side of the wall. The result of the construction project is striking to say the least.
Holiday home
Wall House #2 was actually designed as a vacation home for American landscape architect A.E. bye. But the 1973 design was never implemented, until an architecture festival in Groningen in 2001.
Although the building turned out to be unsaleable as a residence, it is located in a recreational spot on the Hoornseplas on the edge of Groningen.
The eye-catcher of the building is the 14 meter high and 18.5 meter long wall. Different rooms in different colors hang on the huge wall. The entrance, a covered bridge with an office, is at the rear.