Martinitoren church tower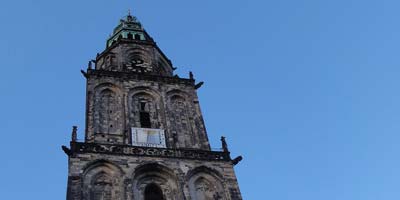 The Martini tower in the city of Groningen
Groningen


Do you dare to take on the climb?
Groningen - d'Olle Grieze is the local nickname for the Martinitoren, the big church tower in the city center of Groningen. With 97 meter its the 3rd highest church tower in the Netherlands.
During the summer months there are regular tours where you can discover everything about the history and legends surrounding the tower, including a story about donkeys and church bells.
The climb of 251 stairs will reward you with an amazing view over the city of Groningen and its surroundings.