Pieterpad trail starting point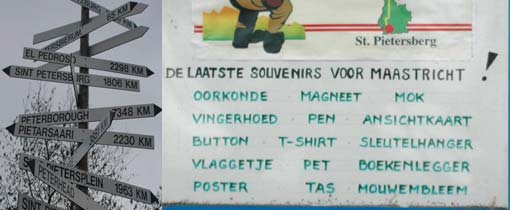 Pieterpad. The start of the long distance walking trail
Pieterburen


Long distance walking trail from north to south
Pieterburen - Last souvernirs before Maastricht. The sign in front of the little shop in Pieterburen is a joke. The little village is the starting point of the Pieterpad long distance walking trail that ends at the Pieterberg near Maastricht, deep in the south of the Netherlands. The trail is a 492 km long hike!
Pieterpad Starting point
Pieterburen is a little village near the Wadden sea in the north of the Netherlands. The village is known for the 'Seal reseach and rehabilitation centre' and as starting point of the longest trail in the Netherlands. The finish is at the Pieterberg in the province of Limburg near Maastricht.
It's a long walk. Therefore most people walk the trail in stages.