Poort Kaap Noord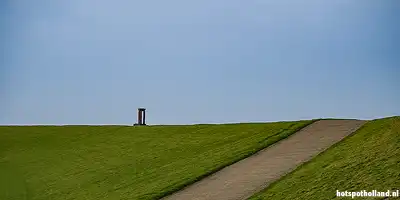 The North Cape: The northernmost spot of the Dutch mainland
Eemshaven


Heaven's Gate on the Dutch North Cape
Eemshaven - A walk to the northernmost tip of the mainland of the Netherlands ends on the dike of the Emmapolder, north of Uithuizermeeden in Groningen. Walking further is not really possible. Unless you go on the Wad at low tide. The extreme point is marked by 'Poort Kaap Noord'. The 'Poort' is a beautiful but lonely work of art on the dike. Except for a single sheep and a windmill, you will only find emptiness, air and water here at the North Cape of the Netherlands.
Lonely on the dike: Heaven's Gate
The artwork on the Wadden sea dike is called 'De Hemelpoort (Heaven's Gate)'. Given its location, a valid name! Poort Kaap Noord was created by artist René de Boer from Usquert in Groningen. The gate is made of steel and is about 2.5 meters high.
From the dike you have a beautiful unobstructed view over the water and the infinite sky above the Wadden.